April 4, 2006
Federer: The Total Package
Superior Athleticism, Technique and Mental Toughness Too Much for Rest of Tour
By David McPherson
Thomas Blake , who was hooked up to a microphone in the player's box, said it best Thursday night during one of the Nasdaq-100 Open quarterfinals: "There comes a point in every match when you (meaning his brother, James, and the rest of the ATP Tour) realize that this guy (meaning Roger Federer) is just too good."
The Swiss Maestro, who won his ninth Masters Series title Sunday by beating Croatia's Ivan Ljubicic in a trio of tiebreakers in the final, is "too good" because he is physically and mentally in a league of his own.
Federer is such a scarily complete player that opposing players and coaches can find little or nothing about his game to exploit and are reduced to hoping that he simply has an off day and temporarily descends to their level.
For if he didn't have power, precision and variety off of every shot in his arsenal – first and second serve, forehand, topspin backhand, slice backhand, volleys, etc. – due to the effortless efficiency of his strokes and his remarkable racquet-head speed and technique, players could, for example, play his backhand knowing he wouldn't hurt them down the line or direct the ball to his forehand in hopes he would spray some balls over the baseline.
But the fact is Federer cannot only hit every shot in the game – short, whippy forehands cross court, heavy top backhands down-the-line, second-serve aces up the T in the ad-court, side-spin dropshots, topspin lobs on the full run, just to name a few – but pull them off with such touch, control and precise spin that no one thinks that any luck was involved in their execution.
Still, if all Federer had was nearly perfect technique, then the opponent could tell himself to get on the offense early in the rally, make the Swiss hit shots from uncomfortable positions and not let him set up and execute the shots the way he wants to.
But the trouble is that Federer is – along with Blake and very few others – one of the top athletes and movers in the whole game. He's so incredibly quick and agile and has such perfect balance that, even when he's on the defense, he's perfectly capable of coming up with a spectacular shot to put him back in control of the point. And even when he's been put on his back foot by a ball hit nearly on the baseline, with one swipe of the racquet or flick of the wrist Federer is back in a neutral position and the opponent has to come up with one or two more great shots to win the rally.
So, even though all-out offense is all most players – with the exeception perhaps of Rafael Nadal or David Nalbandian – can employ as a strategy, it is a very risky tactical ploy with very little chance of success.
Still again, if all Federer had was the physical attributes – the technique and the athleticism – but he got rattled or annoyed in such a way that affected his play, the opponent could hope to jump out to a lead and count on the Swiss mentally imploding.
But the trouble with that idea is that there's no one in the sport who is more calm, collected and sure-headed under pressure than Federer, as he showed at 4-4 in the first set Thursday against Blake when he blew a 40-0 lead on his serve, faced break point and calmly struck a backhand down-the-line, exactly on the line to get back to deuce.
For those who have followed Federer for the past couple of years, it's readily apparent when he is annoyed about losing to a much less accomplished player. And case in point was Thursday night against Blake.
But no matter what is going on upstairs, the Swiss great time and again finds a way to calm himself, block out any negative thoughts and come up with the necessary momentum-reversing big first serve or perfectly struck forehand or backhand winner.
And the end result of possessing all these physical and mental attributes, of having this total package, is that Federer has now won an absurd 15 of the last 19 big fast-court tournaments (Grand Slams, Masters Series tournaments and Masters Cup events) he has entered dating back to the 2003 Masters Cup, and of course not including his 2003 Wimbledon win.
Tennis fans can only hope that Federer has no major injury problems and that a worthy challenger can arise to match him fair and square on the tennis court – something that will be a very daunting proposition for any current or future player.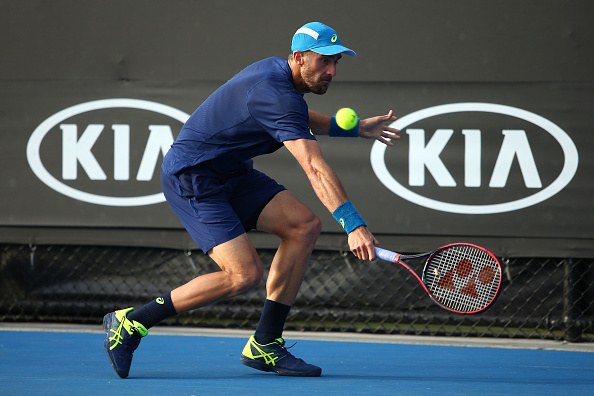 ———————————————————–
On the women's side, meanwhile, Svetlana Kuznetsova's win in the final of the Nasdaq-100 Open could be interpreted as yet more evidence of the parity that exists at the top of women's tennis. Just three months into the year, we've already seen four players – Amelie Mauresmo, Justine Henin-Hardenne, Maria Sharapova and Kuznetsova – claim big titles.
However, of all the top players, for my money Kuznetsova is the only one capable of being truly dominant. Mauresmo lacks a potent weapon from the baseline, Henin-Hardenne – as great as she is – lacks height and reach, Sharapova is a tad slow and lacks feel, spin and creativity. Only Kuznetsova has the size, athleticism and huge, heavy-top forehand to be a dominant player in the mold of say a Serena Wiliams.
Of course, the mental game has always been the big question mark with the talented Russian. Time will tell, but hopefully this marks the beginning of a great run in 2006.
———————————————————–
By the way, one final note from the Nasdaq: some of you noticed my shockingly bad pick of Andy Roddick to win the tournament and rightly gave me a hard time about it. After seeing his woeful, below-40 % winning percentage on second serves in his loss to David Ferrer, you can be sure I'll be very hesitant about predicting him to win a big event in the future.
Have a great week and please send comments, which I'll be sure to post as soon as possible.
Please help support my new business website digital thermometer